Campus Resources
SAFE UT APP
University of Utah students now have access to the SafeUT app which provides real-time confidential crisis intervention through live chats and calls. The program is operated and staffed by the University Neuropsychiatric Institute (UNI). Students can also submit confidential tips through this free app. This short video highlights how to use the SafeUT app. For more information and to download the app, see uofuhealth.org/safeut.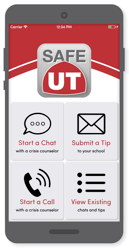 Human Resources-Campus/Health Sciences
https://www.hr.utah.edu/contact/
250 East 200 South, Suite 125
Salt Lake City, UT 84111
Phone: 801-581-2169
Fax: 801-585-7375
University of Utah Hospital
healthcare.utah.edu/hospital
801-585-20131
University of Utah Public Department (UUPD):
dps.utah.edu
911 or 801-585-COPS (2677)
Office of the Dean of Students:
deanofstudents.utah.edu
801-581-7066
Victim-Survivor Advocates:
advocate.wellness.utah.edu
801-581-7776
University Counseling Center
counselingcenter.utah.edu
801-581-6826
Women's Resource Center
womenscenter.utah.edu
801-581-8030
LGBT Resource Center
lgbt.utah.edu
801-581-7973
College of Law's ProBono Clinics
sjquinney.utah.edu/pro-bono-initiative/
801-581-5418
probono@law.utah.edu
Ethics & Compliance Hotline
Ethics and Compliance Hotline (EthicsPoint, 888-206-6025) is a resource provided by the Internal Audit department for all University faculty and staff to ask questions, raise issues, seek advice, and report concerns related to proper business conduct and ethical dilemmas.